Industrial symbiosis
Industrial symbiosis in Zeeuws-Vlaanderen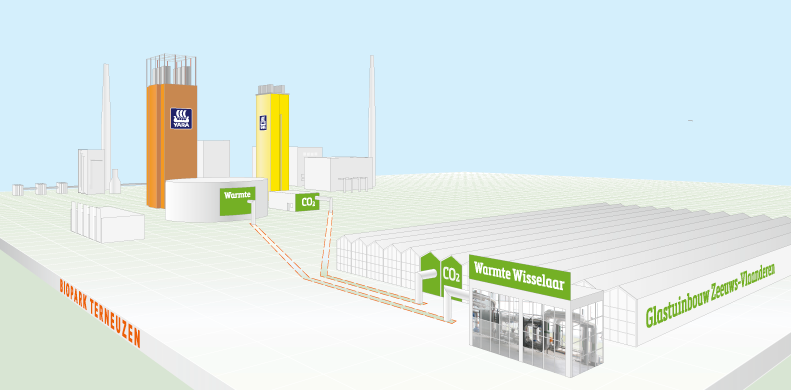 In 2013 I started working as a director of WarmCO2. This company supplies residual heat and residual CO2 from the fertilizer plant Yara to the greenhouse area Zeeuws-Vlaanderen.
This is an industrial symbiosis project, meaning that businesses work together and use each other's residual flows.
Towards a sustainable world - a different mindset
The only way to get CO2 emissions down is to actually do something about it. Technology is not the limiting factor in this process. The human aspects determine whether or not a project will be developedand if it will work once it has. This is something that too few people actually realize. New projects are mainly being approached from the side of technology. But technology is not where the potential problems lie.

Businesses are focussed on continuity and achieving results, which is perfectly normal. Sustainability is something they "do on the side", it's not their core business. That is a fact you have to accept for what it is. If you take this as a starting point, you will have to organize it accordingly as well.
Furthermore, working together is unbelievably complicated. Companies have different cultures, principles, goals and so on. There is a lot of trust and acceptance needed for each other's situation in order for cooperation to succeed. This cannot be enforced, it is a slow process. And only if that mutual trust is there, companies can jointly develop new knowledge and take the necessary steps to move forward.
Managing an industrial cluster is therefore something in its own right. You will need certain skills. It is necessary to constantly keep all forces in sight. Respect, trust and acceptance are central components. The idea that "we'll get it done by just signing a contract" is no longer valid! The world around us is constantly changing and what worked yesterday does not work anymore today. So the concept of security has ceased to exist. We must return to reasonableness and fairness.
My role in such a project
Thanks to all the experience I have gained in the past I speak many languages. As a result, I can buildbridges between different worlds. I'm straight to the point, have the courage to call things as I see them, but I always make sure I do this respectfully. In addition, I can encourage and inspire teams to take action.